Bt Builder
Main - News - Bt Builder vs. BTCS - Editor - Mailing List - GitHub
---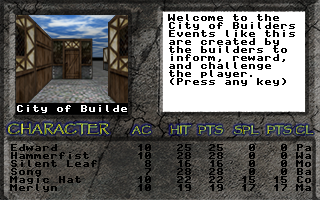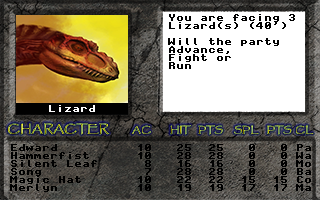 About
Bt Builder is an open source implementation of the Bard's Tale Construction Set. The eventual goal is to make a game builder that can implement the three main Bard's Tale games in addition to Construction Set games. Other possible extensions include Wasteland and Dragon Wars. The editor file formats and custom pictures have been deciphered. At current we do not intend to decipher all file formats instead a new free collection of graphics and sounds will be included with the game. Work has started on a primitive editor. The game interface is fairly usable at the moment.
Questions or comments can be sent to dulsi@identicalsoftware.com.
Downloads
Bt Builder 0.5.1 (source tar & gzipped)
Bt Builder 0.5.1 (Windows build)
Recent News
Apr 16, 2015: Bt Builder 0.5.1 released. Save and attack rate bonus spells support not stacking bonuses. Caster only area effect added. Add tags to monsters and allow attack spells to only effect some types. Add line wrapping to specials and remember previous values when editing an existing command. Map editor has a coordinate system on the screen (max of 99 displayed). Add some sounds for the play sound special. Allow selecting a map location from through the user interface.
---
© 2007, Identical Software. All rights reserved.